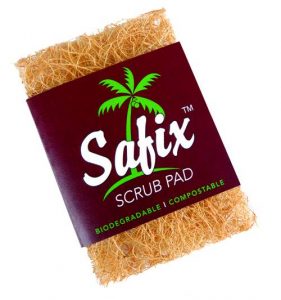 Safix scrub pads are made from 100% coconut fibre.  They easily remove the most baked on food and grease.
100% bio degradable.
Suitable for Vegans and Vegetarians
Does not release microplasics into our environment, unlike commercial scouring pads.
Non-toxic
£2.50
Made from the hair of a coconut and bonded with a natural latex, these are an excellent alternative to the usual green scratchy pads that take off the non stick on your pans.
They are fully compostable and made from natural fibers. Stays fresh and effective for months. Uses less soap but produces more suds.
Rinse clean after use. Store in a dry area, on a soap dish for example. For a deep clean, soak for a few hours in white or apple cider vinegar – 1 part vinegar to two parts water.
Durable and safe for hands, nails, non stick pans even for cleaning your carrots!
Measuring 10 x 7 x 1.5 cm approx
Packed in a recyclable cardboard sleeve